an old-fashioned, festive
Tussie Mussie...
perfect for Spring decor,
May Day flower gifting or just for fun!!
just what is a Tussie Mussie??
A
tussie-mussie
is a quaint and endearing term used for a small, arranged and encased
flower bouquet
, typically given as a gift. They have existed in some form since at least
medieval
times, when they were carried or worn around the head or bodice.
Doilies
, wrapped in a cone shape,
are traditionally used to bind the stems in these arrangements. Alternatively, "posy holders," available in a variety of shapes and materials (although often silver), enable the wearing of these arrangements "at the waist, in the hair, or secured with a brooch."
The term tussie-mussie comes from the reign of Queen Victoria (1837–1901), when the small bouquets became a popular fashion accessory. Typically, tussie-mussies include small inclusions of the season and floral symbolism from the language of flowers, and therefore may be used to send a message to the recipient.
a beautiful, traditional, Victorian silver Tussie Mussie holder.
Fun, Victorian imagery Tussie Mussies.
Sweet and simple winter Tussie Mussies.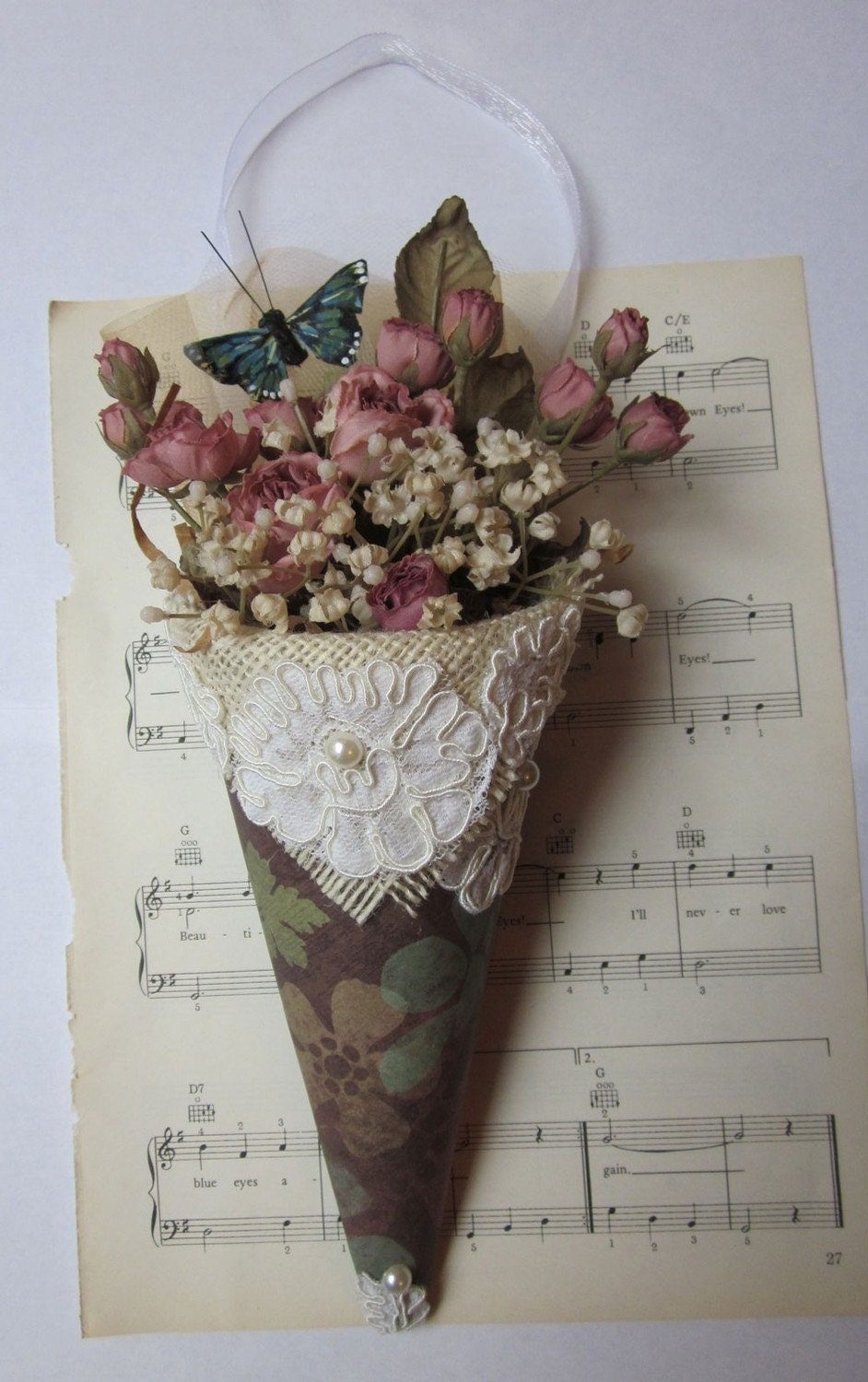 and a lovely Spring inspired, mini Tussie Mussie.
DAFFODIL

- Regard; Unrequited Love; You're the Only One; The Sun is Always Shining When I'm with You

DAISY

- Innocence; Loyal Love; I'll Never Tell; Purity

DANDELION

- Faithfulness; Happiness

DEAD LEAVES

- Sadness

FERN

- Magic; Fascination; Confidence and Shelter
FERN Maidenhair - Secret Bond of Love

FIR

- Time

FLAX

- Domestic Symbol

FORGET-ME-NOT

- True Love; Memories

FORSYTHIA

- Anticipation

GARDENIA

- You're Lovely: Secret Love

GARLIC

- Courage; Strength

GERANIUM

-"Stupidity; Folly

GLADIOLUS

- Give Me a Break . . . I'm Really Sincere; Flower of the Gladiators

GLOXINIA

- Love at First Sight

GRASS

- Submission
HEATHER Lavender - Admiration; Solitude
HEATHER White - Protection; Wishes will Come True

HOLLY

- Defense; Domestic Happiness
HYACINTH General - Games and Sports; Rashness: Flower Dedicated to Apollo
HYACINTH Blue - Constancy
HYACINTH Purple - I Am Sorry; Please Forgive Me: Sorrow
HYACINTH Red or Pink - Play
HYACINTH White- Loveliness; I'll Pray for You
HYACINTH Yellow - Jealousy

HYDRANGEA

- Thank You for Understanding; Frigidity; Heartlessness

IRIS

- Fleur-de-Lis, Emblem of France: Your Friendship Means So Much to Me; Faith; Hope; Wisdom and Valour; My Compliments

IVY

- Wedded Love; Fidelity; Friendship; Affection
IVY SPRIG OF WHITE TENDRILS -Anxious to Please; Affection

JONQUIL

- Love Me; Affection Returned; Desire; Sympathy; Desire for Affection Returned
LARKSPUR Pink - Fickleness
for the full alphabetical language of flowers list click
Our Tussie Mussie workshop includes:
your choice of a sweet little bird to dwell atop your lovely creation
a moss & twig built nest
a banner with your choice of greeting
variety floral sprigs
hand made medallion
a wire or twig handle
a vintage thread cone base
ribbons and lace
and a rusty spring to display your creation!
and remember...just like most of our workshops,
colors, florals and paper patterns are your choice.
Coordinate with your decor or intended recipient and truly make it your own!!
Spring Time Tussie Mussie
A sweet Springtime addition for your decor,
table settings or makes a wonderful,
date: April 11th
11:30 to 1:30
To join us for this super fun and Springy workshop